Cruising – Thinking about getting married or renewing your vows while at sea? A cruise wedding can be the perfect solution. In many cases you will only need to contact the in-house wedding coordinator, fill out a form with your preferences for music, cake, photographer etc. and let them handle the arrangements.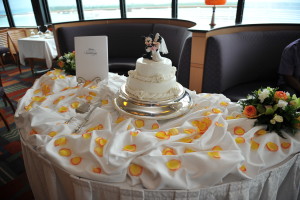 My husband and I were married on a Disney cruise ship and it was elegant and stress free. We made a phone call, filled out a form with our choices and enjoyed our wedding and honeymoon. Most of the major cruise lines offer wedding
packages. I found the following information to be helpful in narrowing down the ship that is right for you.
This list provides highlights for 5 cruise lines and gives an overview of their wedding packages.
Disney Cruise Line Disney Cruise or DisneyWeddings.com
Choose from 4 Disney cruise ships (Magic, Wonder, Dream or Fantasy) or the Disney private island in the Bahamas, Castaway Cay.
Celebration packages begin at $3000 (this does not include the price of the cruise) and includes onsite ceremony coordinator, floral for the couple, solo musician (pianist) for the ceremony, cake and champagne, dinner for the couple at Palo (adults only restaurant), commemorative ceremony certificate, steaming of clothing for the couple and $100 stateroom credit. Additions can be made for photographers, floral for the bridal party etc. This package accommodates the couple and 8 guests.
You must be legally married in the home port on the embarkation day or you may have a civil wedding before the cruise.   It is your responsibility to provide all necessary marriage license documents if you are to be married on the embarkation day.
Celebrity Cruise Line celebritycruise.com
Celebrity cruise line now offers captain-led marriage ceremonies performed under the Maltese flag while at sea. Available on all ships except the Xpedition. There are also in port onboard and shoreside ceremonies. These are presided over by an officiant instead of the captain.
Beginning at $2500, the Nautical Nuptials at Sea package includes: an event coordinator, captain led ceremony, 1 hour photography (not including photos) live music, floral for the couple, cake for 2, champagne and a romantic room turndown with rose petals, champagne flutes, chocolate strawberries. Licensing and regulatory fees are not included. This does not include the price of the cruise.
Princess Cruise Line   www.princess.com
Princess offers 3 wedding programs. Tie the Knot at Sea ($2285 includes $485 license fee) Tie the Knot Harborside ($2000 – $2950) and Tie the Knot Ashore ($2900 – $5400). This does not include the price of the cruise.
The Tie the Knot at Sea package includes: onboard coordinator, captain led ceremony, floral for the couple and 2 arrangements for ceremony, pre-recorded music, photography services (photos extra), one 16×20 wall portrait, cake, 1 bottle of champagne, 2 champagne flutes, wedding certificate.
There are many additions available such as live music, ice sculptures, wine and hors d'oeuvres receptions and floral decorations to name a few.
Cunard Cruise Line cunard.com
The Royal Wedding at Sea is offered onboard the Queen Mary 2 ($3900 includes license fee), the Queen Victoria ($3300 includes license fee) and the Queen Elizabeth ($3300 includes license fee). Captains may conduct a ceremony at sea under the Bermuda registry. Weddings must be conducted while at sea and on voyages of a minimum of 7 days. This does not include the price of the cruise.
The ceremony includes: onboard coordinator, captain led ceremony at sea, floral for the couple plus 2 fresh arrangements for the ceremony, traditional wedding music, 8" cake, bottle of Veuve Clicquot champagne, champagne afternoon tea (couple only), wedding certificate, wedding invitations and thank you cards for voyage guests, pressing service for bridal outfits, white star bellman escort to ceremony, and priority check in, luggage delivery, embarkation and disembarkation for the couple. There are a host of additional finishing touches available.
Carnival Cruise Line carnival.com
Carnival offers 5 wedding packages on each on its ships. Just You & Me ($1355 – $1855) Time to Celebrate ($1795 – $2395) Time to Celebrate Big! ($1975 – $2575) Let Us Serve You ($1595 – $2195) and Island Breeze ($2055 – $3495) There may be additional service fees, sales tax and license fees. This does not include the price of the cruise.
The Just You and Me package includes: onboard wedding coordinator, wedding officiant, ceremony location with aisle runner and silk floral arrangements, ceremony music (recorded), floral for couple, wedding cake, cutting service and champagne toast, 2 champagne flutes, photographer at service and reception, 1 bottle of sparkling wine and chocolate strawberries for the stateroom. This package accommodates 8 guests including the wedding couple.
Important tips: As cruise weddings have become more popular you must book early due to a limited number of ceremonies per trip.   There may also be surcharges during certain times of the year. Remember to ask and ask again about all necessary legal documents. Keep in mind the weather if planning a shore side wedding, especially if you must tender at the port. Not all ships allow captains to officiate. Last but not least, relax and enjoy the moment!